Celebrity Plastic Surgery: Before & After Pics Showing Difference
Almost a fact – celebs do plastic surgery more than common people. Even if they don't admit the fact of plastic surgery, their beauty transformations are the best evidences. We present seven celebrities, male and female, who gone through the difficult road of achieving perfect appearance and younger look.
Courteney Cox admitted many times, that she did Botox in the past, but she wouldn't go under the knife.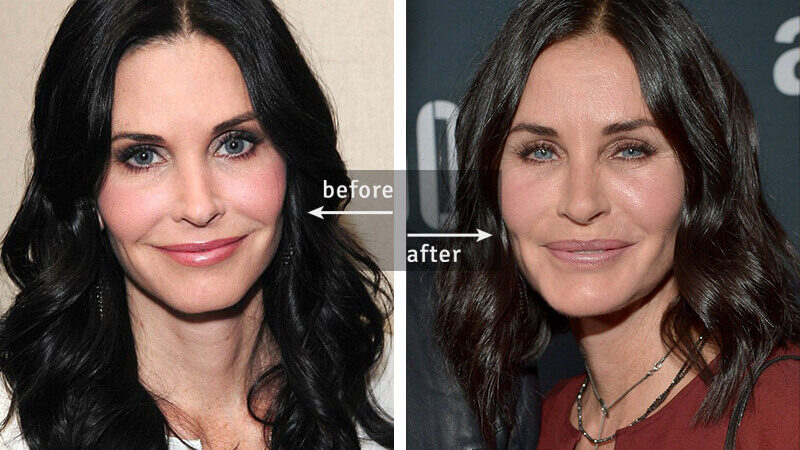 Startraks Photo, gettyimages
But in 2015 when the Friends star appeared in Amazon premiere for drama series Hand Of God at the Ace Hotel in Los Angeles, people noticed that she had puffier cheeks and her eyes looked smaller than usual, making it appear as if she had some work done to her face.
In the 1980s, Mickey Rourke was successful actor, he was praised for his appearance. The Independent compared his youthful appearance to Marlon Brando or James Dean, calling it "almost androgynous… soft femininity blurred with rugged manliness."
Mickey Rourke is one of the few actors to admit to having plastic surgery. "I had to have cartilage taken from my ear to rebuild my nose and a couple of operations to scrape out the cartilage because the scar tissue wasn't healing properly", said Rourke. Experts say The Wrestler star has also had a facelift, eyelid surgery to both upper and lower lids, soft tissue fillers, cheek and chin implants, hair transplants.
Khloe Kardashian has always been one of the favorites on "Keeping Up With The Kardashians". When KUWTK first aired in 2007, the youngest Kardashian sister was known for being the funny, outspoken sister, and was much taller than her sisters Kim and Kourtney. Looking different to her sisters, her family had even joked about her being "adopted" and she went as far as doing a DNA test on the show to prove she was in fact Kris Jenner and Robert Kardashian's daughter.
In 2016 Khloe Kardashian admitted to having her facial fillers dissolved. "My face was so fucked, I had to go and get this whole thing dissolved," she said on her talk show Kocktails With Khloe. "It was a bummer, and now I'm afraid to do it again. And I'm almost like, I swear things are still in my face." Fans are still disputing whether her nose and other facial features look different now because of surgery.
John Travolta became famous back in the late seventies, playing the lead role in Saturday Night Fever. His classic look attracted girls even as he got older.
Many claim that at least three procedures he may had on his face: mostly the facelift, neck lift and
botox
filler injection to retain his youthful appearance which may had made him flawless, but in an unnatural way.
Ariel Winter has grown up on television and is best known for her role as Alex Dunphy in the hit ABC show Modern Family, which began in 2009. Winter is also a voice actor, voicing lead characters in TV shows Sofia the First (2013-2016).
The Modern Family star got a breast reduction in 2015 at age 17, which she's said helped ease back pain and increase her confidence. "I just said to myself, 'You have to do your best to look confident and stand up tall, and make yourself look as good as you can in these photos,' because everyone is going to see them," she told told Glamour. "I definitely seemed confident; I'm an actress, that's what we do. But on the inside, I wasn't feeling so happy."
Elon Musk used to look different when he was the CEO of Paypal. If you look at his pictures from his PayPal days, when he sold the company (in 2002), he was pretty bald, described like significant frontal thinning with recession.
It's highly probable that Tesla and SpaceX founder Elon Musk has undergone hair transplant surgery. In the pictures from the 2018 Met Gala, Elon has a noticeably fuller head of hair than what he sported earlier in his career.
Iggy Azalea, a rapper, songwriter and former model, peaked among the top five on several charts worldwide with her debut studio album The New Classic in 2014. In photos taken when the Australian-born star was just 23, she sports noticeably thinner lips, a larger nose and a flatter chest.
In 2015, Iggy Azalea confirmed to Seventeen, she had breast implants and had gotten a nose job. "I'm not denying it. Denying it is lame," she told the magazine. "I don't think you should be ashamed if you made a change to yourself, which is why I've spoken about the changes I've made, like with my breasts."