11 Celebrities Before They Became Famous – With Photos From Their Jobs
Yes, they were not always rich and famous. Many celebrities started out with jobs that were far from their dreams, many had surprising jobs. Here are celebrities with the pictures from their jobs before they became famous.
1. Hugh Jackman – High School Gym Teacher, Party Clown
before
Hugh Jackman was a high-school gym teacher at Uppingham School in England. Also, according to his instagram post, he had a job as a party clown.
after
Hugh Jackman is best known for playing Wolverine/Logan in the X-Men film series (2000–2017), a role for which he holds the Guinness World Record for "longest career as a live-action Marvel superhero".
2. Charlize Theron – Model, Ballet Dancer
before
Although seeing herself as a dancer, at age 16 Charlize Theron won a one-year modelling contract at a local competition in Salerno and moved with her mother to Milan, Italy. After Theron spent a year modelling throughout Europe, she and her mother moved to the US, both New York City and Miami. In New York, she attended the Joffrey Ballet School, where she trained as a ballet dancer until a knee injury closed this career path.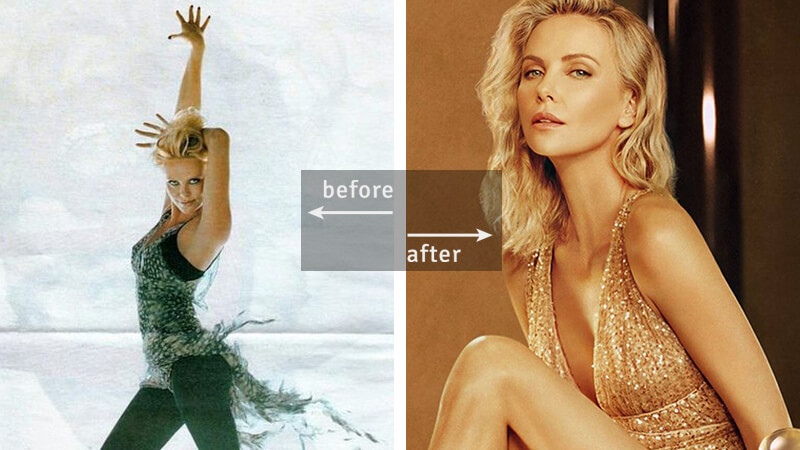 after
Charlize Theron is an actress and producer. One of the world's highest-paid actresses, Theron is the recipient of numerous accolades, including an Academy Award, a Screen Actors Guild Award, and a Golden Globe Award. In 2016, Time named her one of the 100 most influential people in the world.
3. Harrison Ford – Carpenter
before
Not happy with the roles being offered to him in his early career, Harrison Ford became a self-taught professional carpenter to support his then-wife and two young sons.
after
Harrison Ford is an actor, pilot, and environmental activist. As of 2019, the U.S. domestic box office grosses of his films total over $5.1 billion, with worldwide grosses surpassing $9.3 billion, placing him at No. 4 on the list of highest-grossing domestic box office stars of all time. In addition to his box office success, he is also an Academy Award nominee, a four-time Golden Globe nominee, a three-time Saturn Award winner, and the recipient of the AFI Life Achievement Award and the Cecil B. DeMille Award.
4. Meghan Markle – Calligrapher
before
Before she met Prince Harry and five years prior to become famous for her role in TV series Suits, Meghan Markle was working as calligrapher in Paper Source, a small shop for decorative papers and custom stationery, in Beverly Hills.
gettyimages
after
Meghan, Duchess of Sussex is a member of the British royal family and a former actress.  Mainly known for playing paralegal Rachel Zane in the American legal drama Suits (seasons 1–7). In 2017, Meghan Markle became engaged to marry Prince Harry. Upon their marriage in 2018, she became Duchess of Sussex.
5. Pierce Brosnan – Fire Eater
before
Pierce Brosnan became a professional fire eater in his teens and performed under the big top for three years. Brosnan demonstrated his fire eating skills in a 1982 episode of Remington Steele, titled High Flying Steele.

James Bond 007
after
Pierce Brosnan is an actor, film producer, and environmental activist. He became known as the fifth actor to play secret agent James Bond in the Bond film series, starring in four films from 1995 to 2002 (GoldenEye, Tomorrow Never Dies, The World Is Not Enough, and Die Another Day) and portraying the character in multiple video games.
6. Halle Berry – Journalist
before
Halle Berry used to work at Daily Express. In 1986 the actress was a budding journalist representing the USA in the Miss World competition.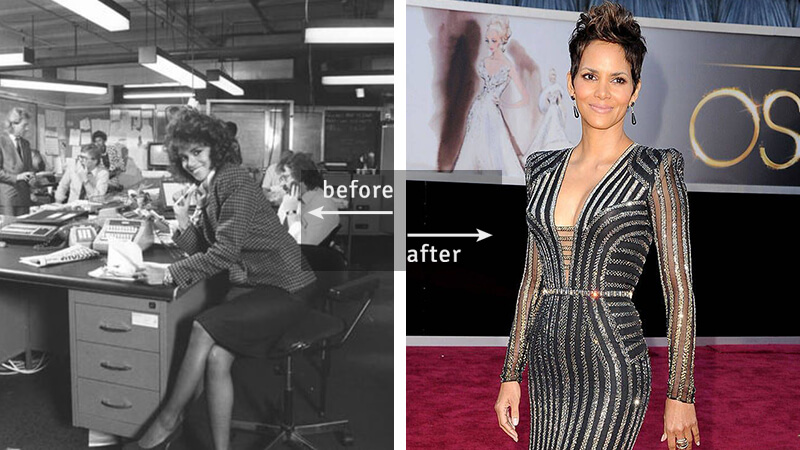 after
Halle Berry is an actress. She began her career as a model and entered several beauty contests, finishing as the first runner-up in the Miss USA pageant and coming in sixth in the Miss World 1986. Berry won the Academy Award for Best Actress for her performance in the romantic drama film Monster's Ball (2001).
7. Brad Pitt – Dress Up as a Chicken
before
Before he became a successful actor, Brad Pitt supported himself working for "el Pollo Loco" in Hollywood. He had to dance in a chicken suit to draw customers in.
after
Brad Pitt is an actor and film producer. He has received multiple awards, including two Golden Globe Awards and an Academy Award for his acting, in addition to another Academy Award, another Golden Globe Award and a Primetime Emmy Award as producer under his production company, Plan B Entertainment.
8. Channing Tatum – Roofer, Stripper
before
Channing Tatum left used to work as a roofer and after worked as a stripper at a local nightclub, under the name "Chan Crawford". In 2010, he told an Australian newspaper that he wanted to make a movie about his experiences as a stripper. That idea led to the movie Magic Mike.
after
Channing Tatum an actor, producer, and dancer. Tatum made his film debut in the drama film Coach Carter (2005). His breakthrough role was in the 2006 dance film Step Up, which introduced him to a wider audience.
9. Steve Buscemi – Firefighter
before
Steve Buscemi was a professional firefighter with the FDNY's Engine Company 55. He served Little Italy area of Manhattan's from 1980 to 1984. During the 9/11 attacks he returned to his former job as a New York firefighter to help out.

Fargo
after
Steven Buscemi is an actor, director, writer, producer and former firefighter. He has starred in a number of successful movies, including Desperado (1995), Armageddon (1998), Fargo (1996), and The Big Lebowski (1998).
10. Christopher Walken – Clown and Lion Tamer
before
Christopher Walken's real name is Ronald and he started out his performance career as a clown working in the circus. When he got a bit older, he upgraded to a lion tamer.
after
Christopher Walken is an actor, singer, comedian, director, producer, screenwriter, and dancer, who has appeared in more than 100 films and television programs. He has received a number of awards and nominations, including the Academy Award for Best Supporting Actor for The Deer Hunter. His films have grossed more than $1 billion in the United States alone.
11. Patrick Dempsey – Juggler
before
Patrick Dempsey was a champion juggler in his youth. He came in second in two major juggling competitions in 1982/1983.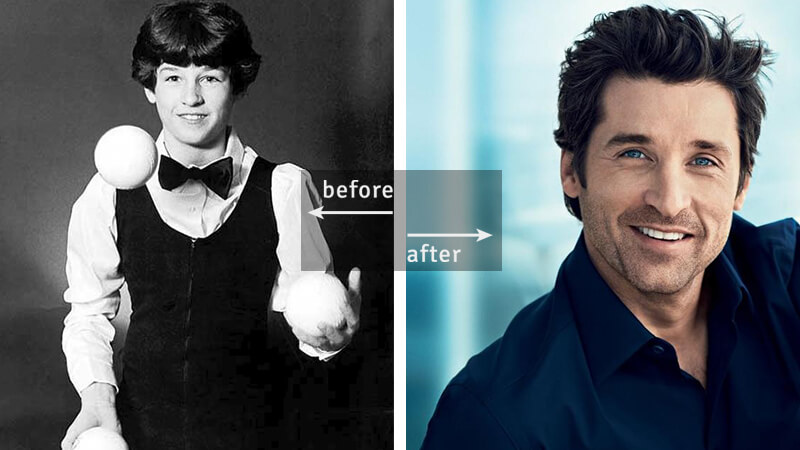 Madly Grey's Paradise
after
Patrick Dempsey is an actor and race car driver, best known for his role as neurosurgeon Derek "McDreamy" Shepherd in Grey's Anatomy.