'Friends' Cast Then and Now: After More Than 25 Years
'Friends' is an American television sitcom, created by David Crane and Marta Kauffman, which aired on NBC from September 22, 1994, to May 6, 2004, lasting ten seasons. 'Friends' received acclaim throughout its run, becoming one of the most popular television shows of all time. Though some of the cast was known prior to 'Friends,' this series made them stars. After more than 25 years, they are still associated with their roles in 'Friends'. While we all wait for 'Friends' reunion, which is delayed until May 2021, let's see what the famous 'Friends' cast have been doing all these time and how they look now.
1. Jennifer Aniston (Rachel Green)
before
Jennifer Aniston (Rachel Green) is the show's most famous cast member. The producers originally wanted Aniston to audition for the role of Monica Geller, but Courteney Cox was deemed more suitable. Thus, Aniston was cast as Rachel Green. Jennifer Aniston's character became so much more than the shopping-obsessed runaway bride from season 1. Not only did her character land a coveted job at Ralph Lauren, but she also — much to everyone's delight — finally ended up with Ross in the show's series finale.
David Fisher / REX / Shutterstock, NBCU Photo Bank / NBCUniversal / gettyimages
after
Jennifer Aniston has the most successful carrier so far. The Golden Globe winner played in memorable comedies such as The Bounty Hunter, We're the Millers, Horrible Bosses and took dramatic turns in indies like Cake. Jennifer headed back to tv with her on-screen sister, played by Reese Witherspoon, in The Morning Show, an Apple TV+ series "exploring morning shows and the larger New York media scene that they inhabit." Plus, she had high-profile marriages to Brad Pitt and Justin Theroux.
2. Courteney Cox (Monica Geller)
before
Courteney Cox (Monica Geller) was the most famous cast member before joining the show. She had already appeared in the music video for Bruce Springsteen's Dancing in the Dark. She was also known for playing Alex P. Keaton's girlfriend, Lauren Miller, on Family Ties and starring with Jim Carrey in Ace Ventura: Pet Detective. Initially, showrunners offered Cox the role of Rachel, but she wanted to play Monica instead because she liked her strong personality.
NBCU Photo Bank / NBCUniversal / gettyimages, Rich Fury / gettyimage
after
After 'Friends' ended, Courteney began starring in Cougar Town, which ran from 2009 to 2015 a part that earned Cox her first Emmy Award nomination. she also directed a handful of its episodes, as well as her first feature film Just Before I Go in 2014. She's divorced from David Arquette, though the friendly exes co-parent daughter Coco.
In 2019, she created and executive produced the Facebook Watch documentary series 9 Months with Courteney Cox, which focuses on "people from across the country of various race, religion, and class as they self-document their 9-month journey of pregnancy". In 2020, she guest starred in the ABC sitcom Modern Family. Cox is a practitioner of Budokan karate.
3. Lisa Kudrow (Phoebe Buffay / Ursula Buffay)
before
Lisa Kudrow (Phoebe Buffay / Ursula Buffay) got the part on Friends because the producers liked her work as Ursula on the show Mad About You with Paul Reiser and Helen Hunt. Indeed, they liked it so much that they had Kudrow play both roles on Friends.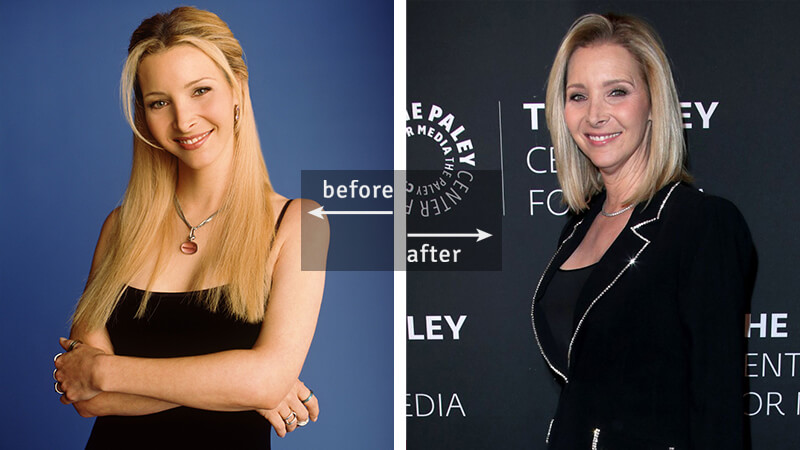 NBCU Photo Bank / NBCUniversal / gettyimages, Matt Baron/Shutterstock
after
After 'Friends,' Lisa Kudrow landed parts in movies like "P.S. I Love You," "Neighbors," "Easy A," and "The Girl on the Train." You might have also seen her appear as Congresswoman Josephine Marcus on a few episodes of ABC's "Scandal." She is happily married to French advertising executive Michel Stern and they have a son.
4. Matt LeBlanc (Joey Tribbiani)
before
Part of how Matt LeBlanc (Joey Tribbiani) landed the role of Joey was that he went out drinking the night before and fell and hit his nose. So, naturally, he had to explain the story to David Crane and Marta Kauffman in the audition room the next morning. Matt's re-telling of the story had Marta in stitches and it ultimately won her over. 'Friends' was Matt's fourth series…but, by far, his biggest.
after
The character of Joey Tribbiani was so popular that television execs tried to ride the wave of success by creating a spinoff where Joey heads to Hollywood to pursue his acting career. The show even earned a primetime spot on NBC Thursday nights at 8 p.m., which is the same day and time 'Friends' had aired.
But Joey was an abysmal failure that lasted less than two seasons. The ratings were so poor in the end that the network decided to skip airing the last 8 episodes, which were already recorded, and canceled the show mid-season in 2006.
Matt LeBlanc presented the popular BBC 1 Motoring Documentary Series, Top Gear, from 2016 to 2018, and was formerly starring in his own sitcom, Man with a Plan aired from 2016 to 2020. Matt LeBlanc was dating Kate Hudson in 1996. He has a daughter from British model Melissa McKnight.
5. Matthew Perry (Chandler Bing)
before
Matthew Perry (Chandler Bing) explained in an interview with Seth Myers that he almost missed out portraying Chandler because he was connected to another project. According to Perry, he landed a pilot for a show called LAX 2194 and was contractually tied to it when he received the script for ՛Friends՛. Thankfully for Perry and ՛Friends՛ fans, Fox didn't pick up the series, meaning Perry was free to take on the role of Chandler.
NBCU Photo Bank / NBCUniversal / gettyimages
after
Matthew Perry dated Yasmine Bleeth in 1995. He also dated Julia Roberts from 1995 to 1996. Perry had to write and submit a paper on quantum physics to Roberts in order for her to appear on 'Friends'. He later dated Lizzy Caplan from 2006 to 2012.
Perry completed a 28-day program in 1997 for a Vicodin addiction. He again entered rehab in February 2001 for addiction to Vicodin, methadone, amphetamines, and alcohol. Perry later revealed that due to his addiction issues he does not remember three years of his time on 'Friends', "somewhere between season three and six."
Matthew Perry got engaged to Molly Hurwitz, a literary manager, in November 2020. They were first rumoured to be dating in December 2019, when they had reportedly spent Christmas together.
6. David Schwimmer (Ross Geller)
before
Before landing his breakout role on 'Friends', David Schwimmer (Ross Geller) had several minor roles on both big and small screens. He appeared in L.A. Law and The Wonder Years, as well as in small films like The Waiter and Twenty Bucks. David Schwimmer was the last person cast for the show. The writers knew they wanted him for the role of Ross–no one else would do. No audition was necessary, they just had to persuade him to take it. Schwimmer had made it very clear that he wasn't planning to work in television because a bad experience on a previous sitcom had left a sour taste in his mouth. However, his agent finally convinced him to read the script, and he absolutely loved the writing. He accepted the role and the rest is history!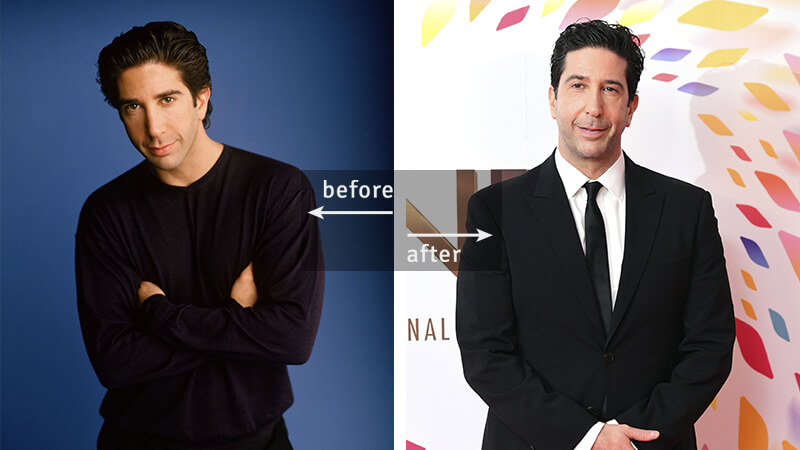 NBCU Photo Bank / NBCUniversal / gettyimages
after
His success in 'Friends' opened doors for Schwimmer, and he went on to star in numerous films and enjoyed guest appearances on several television shows. He played Robert Kardashian in American Crime Story: The People v. O.J. Simpson. Schwimmer is an active director of the Rape Treatment Center in Santa Monica, which specializes in helping victims of date rape and child rape. He has also campaigned for legislation to ban drugs such as Rohypnol and GHB. In November 2011, he gave the Scottish charity Children 1st permission to screen his film Trust to commemorate World Day for Prevention of Child Abuse and Violence against Children. Off-screen, he was married to British artist Zoë Buckman, with whom he has one daughter.
Info from: people.com, cheatsheet.com, insider.com, cheatsheet.com, thethings.com, cheatsheet.com