Kylie Jenner's Beauty Transformations: Before and After Photos
Kylie Jenner…the youngest Kardashian-Jenner and a self-made millionaire transformed drastically in front of our eyes since 2007's season one of "Keeping Up with Kardashians". If we compare Kylie's old photos to her current look, changes, that we might not noticed, come into our view. Of course her appearance has changed naturally since her first appearance in the family show, but did she do also plastic surgery or it is just magic of the production from her owned cosmetic company Kylie Cosmetics?
Lips
before
For the longest time Kylie Jenner denied getting lip injections; she only insisted on overlining her lips.
2013
2015
after
In July 2018 Kylie eventually revealed that she had temporary lip fillers, but confessed that she got rid of all her fillers. But by October 2018 filler-enhanced lips were back.
Breasts
before
Another part of Kylie's body was also a subject of rumors. Even in 2015 she tried to shut down any talks about getting breast augmentation surgery by saying the change is due to her gaining extra 15 pounds and thanks to a bombshell bra by Victoria's Secret!
2013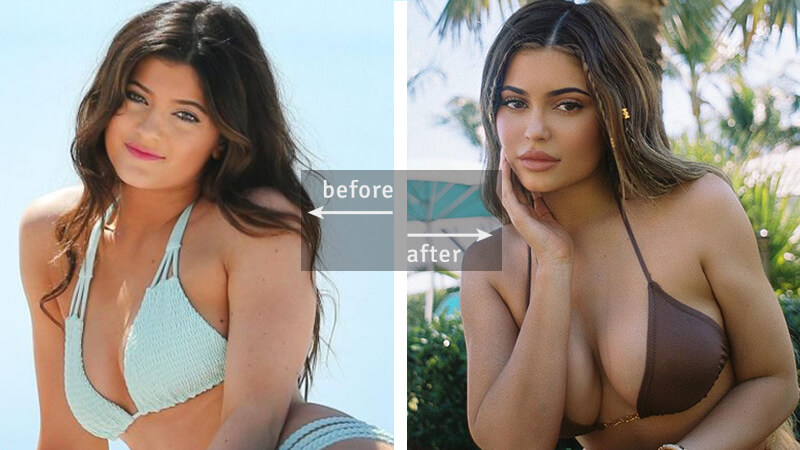 2020
after
But then there are pictures showing that Kylie shouldn't be thanking Victoria for her well-kept secret, but breast implants instead. People suppose changes are the result of a Brazilian Butt Lift or (BBL) procedure. The procedure involves taking the fat from one area of the body (mostly the tummy) and transferring it to the derriere.
Buttocks
before
Kylie Jenner's body has become more curvaceous over the years. While she repeatedly stated its due to puberty, the world has doubts about it.
2011
2018
after
Kylie's several images led to gossips about a certain "butt surgery scar", but she insisted it being a tattoo.
Are all these pictures facts of plastic surgery or not, it's obvious for sure: Kylie Jenner only gained a better look.