Home Alone Cast: What They Look and Do Now
Home alone, premiered on November 10, 1990, is undoubtly one of the best Christmas movies of all time. Along with its sequel Home Alone 2: Lost in New York, released in 1992, Home alone has become a holiday classic to rewatch year after year. The movie earned a Guinness World Record as the highest-grossing live-action comedy ever domestically.
Even after three decades and one more vain attempt of Home Sweet Home Alone, we can't imagine anyone else, but Kevin McCallister (Macaulay Culkin) accidentally left home alone on the Christmas eve.
Many lines from the movie, such as "Would you, please, tell him that instead of presents this year, I just want my family back", "I'm eating junk food and watching rubbish, you better come out and stop me!", "Keep the change, ya filthy animal" have become some of the most famous movie quotes ever.
Let's take a look at what the actors of Home Alone look like now, whether they play in movies or TV, whether their role in Home Alone is the most successful of their careers.
1. Macaulay Culkin (Kevin McCallister)
before
Home Alone was the film that made Macaulay Culkin Hollywood's biggest star at the time, and at just 10 years old. It was he, with his charming performance in John Hughes' Uncle Buck (particularly scene in which his character interrogates his babysitter), who inspired to write a film carried entirely by a child protagonist. Macaulay Culkin became the first child actor to be paid $1m, for his follow-up role in My Girl, as well as the second-youngest celebrity to host Saturday Night Live, aged 11. He became friends with Michael Jackson and starred in the video for Black Or White. Culkin was nominated for a Golden Globe Award and won an American Comedy Award and a Young Artist Award.
20th Century Fox, gettyimages
after
After the fame came with the movie, Macaulay Culkin soon found himself following the same dark path like many young stars before him. Persistent rumours of drug abuse were confirmed when he was arrested in Oklahoma in 2004. In 1998, Culkin appeared to suffer burnout and took a break from acting. He Since 2003 he did several attempts to make a comback, but they ended in disappointment. Culkin continues to make TV appearances every now again, mainly as himself or his Home Alone character, Kevin McCalister. Currently, Culkin works on his podcast Bunny Ears, which he launched in 2017. The site is part-parody, part-comedy and sees the actor interviewing some big-name personalities, including singer Lizzo and skateboarding champ Tony Hawk. Culkin also wears a set of bunny ears throughout the interviews, hence the name.
Culkin dated Mila Kunis for nearly nine years before their January 2011 split. He has been dating Brenda Song since June 2017. Macaulay Culkin revisited his classic Home Alone character for a new Christmas ad for Google Assistant, in 2018. In August 2020, on his 40th birthday, Culkin tweeted, "Hey guys, wanna feel old? I'm 40. You're welcome." The tweet became the tenth most-liked tweet of all time.
2. Joe Pesci (Harry, thief)
before
When it comes to who would portray Harry Lime, the leader of "Wet Bandits", there were a few other renowned actors who almost had the job. Among the list of actors considered for Harry were Danny DeVito, Bob Hoskins, Kurt Russell, Tommy Lee Jones, and even musician Phil Collins. Robert De Niro also reportedly turned down the role before it went to his friend and frequent co-star Joe Pesci. Before Home Alone, Pesci was known for appearing in mostly adult-skewed content, including Raging Bull, Goodfellas, Lethal Weapon 2, and Half Nelson. As a result, he'd accidentally drop a few curse words throughout the film. In order to get the most authentic performance possible, Joe Pesci did his best to avoid Macaulay Culkin on the set so that the young actor would indeed be afraid of him.
20th Century Fox, Shutterstock
after
In 1999, Joe Pesci announced his retirement from acting to pursue music. He returned to acting when he did a cameo in De Niro's 2006 film The Good Shepherd. In 2017, Pesci was cast alongside Robert De Niro and Al Pacino in The Irishman, a crime film directed by Martin Scorsese. Pesci's performance in the movie as Russell Bufalino was critically acclaimed and earned him various accolades, including nominations for the Academy Award for Best Supporting Actor, the BAFTA Award for Best Supporting Actor and for two Screen Actors Guild Awards.
3. Daniel Stern (Marv, thief)
before
Daniel Stern, actually, was initially cast as Marv, but dropped out when he learned he would be working for eight weeks for the price of six and was replaced by Daniel Roebuck by Warner Bros' recommendation. Believing him to lack chemistry with Joe Pesci, the studio dropped Roebuck and reapproached Stern, who looks back on Home Alone thankfully. In the Netflix documentary, Daniel Stern actually says, "Thank God they came back to me."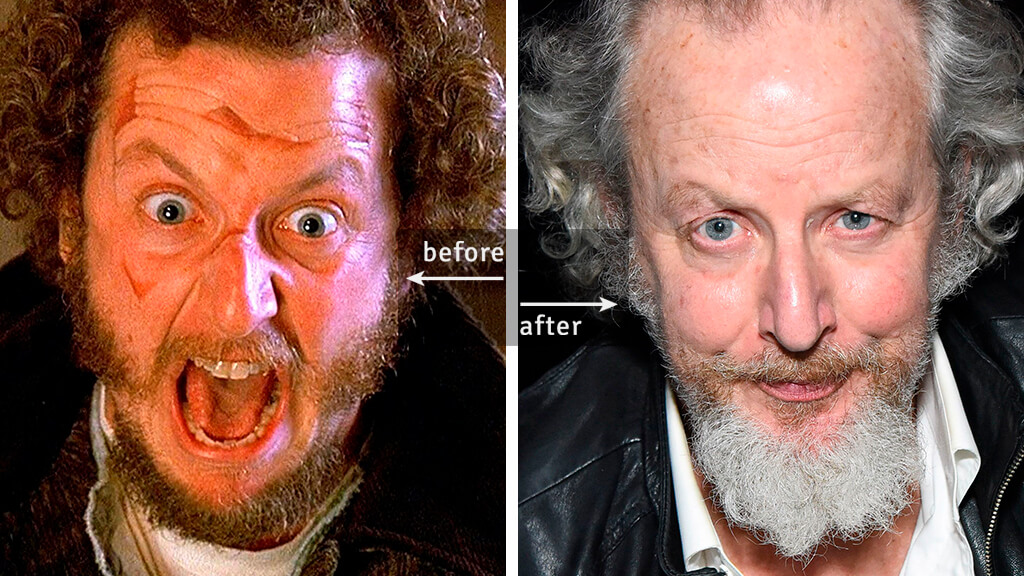 20th Century Fox, gettyimages
after
After the Home Alone, Stern continued acting in comedy shows and movies, and even directed several TV series. He opened a Boys & Girls Club in Malibu, CA, took up sculpting as a hobby, and has even shown pieces throughout the Southern California area. He has been married to Laure Mattos since 1980. The pair share three children, including son Henry Stern who is a California State Senator.
4. Catherine O'Hara (Kate, Kevin's mother)
before
Catherine O'Hara was a firm favourite with Home Alone fans after taking on the role of Kevin McCallister's mum, Kate. However, she wasn't first choice for the role: John Hughes asked Elizabeth Perkins to take the Catherine O'Hara role, and she wasn't able to do it, she was busy.
20th Century Fox, John Hughes Tribute | Reunited Apart
after
With a Golden Globe, two SAG Awards, two Primetime Emmys and six Canadian Screen Awards under her belt, O'Hara is still making waves in the acting world. From 2015 to 2020, Catherine O'Hara starred alongside Eugene Levy, whom she met on the set of Second City Television, as Moira Rose in the CBC sitcom Schitt's Creek. O'Hara paid tribute to her Home Alone character by recreating her iconic "Kevin!" scream in a TikTok video in November 2020. It received more than 3.5 million views within the first few weeks of it going live.
I can't stop watching this pic.twitter.com/DNOJOQ1V3Y

— In Excelsis Deco 🎄 (@Tweet_Dec) November 29, 2020
5. John Heard (Peter, Kevin's father)
before
John Heard played the part of Kevin's father who unwittingly leaves his son at home when making a Christmas trip to France. Heard chose to characterize the role with a combination of concerned dramatic acting of a father missing his son along with more classical comedic tropes.
20th Century Fox, Frazer Harrison / gettyimages
after
After his role as Kevin's dad, Peter McCallister, Heard starred in Radio Flyer, Gladiator, The Pelican Brief, The Guardian, The Lucky Ones, Pray for Rain and Living Among Us. The Washington D.C. native's TV credits include, The Client, The Sopranos, Jack & Bobby, Prison Break and a guest appearance on NCIS: Los Angeles. The actor died after suffering a heart attack brought on by heart disease in July 2017. He was 71.
6. Devin Ratray (Buzz, Kevin's brother)
Ratray was born in New York City, the son of Ann Willis and Peter Ratray, both actors. He started acting at the age of nine years in the movie Where Are the Children? (1986). He starred as a youth in various other programs and movies until his acting pinnacle in 1990 as Buzz McCallister, the mean older brother of Macaulay Culkin's character, Kevin, in Home Alone and Home Alone 2: Lost in New York.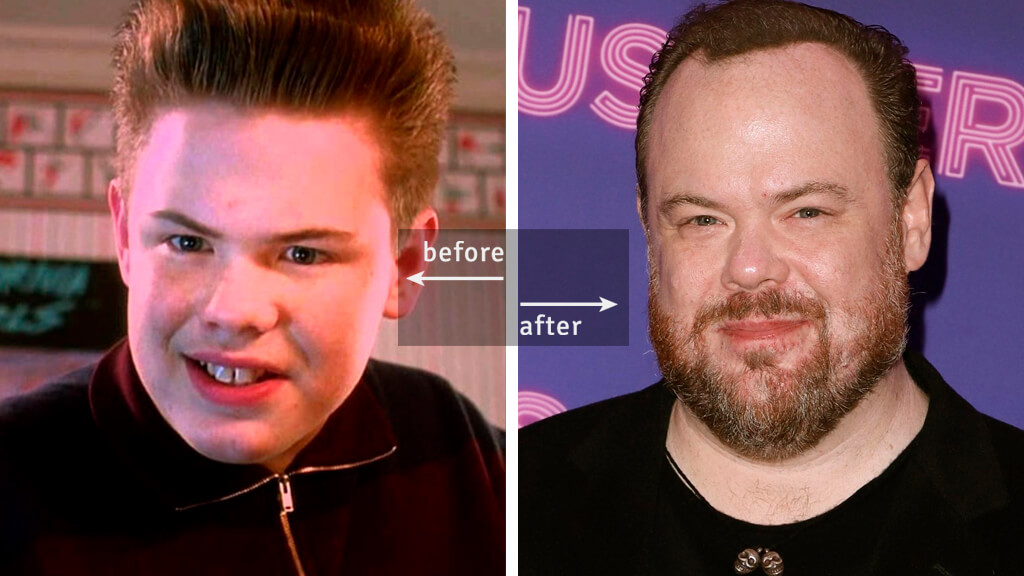 20th Century Fox, John Parra / gettyimages
after
After portraying Kevin's bullying big brother Buzz in two films, Ratray appeared in Dennis the Menace, Strong Island Boys, The Prince and Me, Breaking Point, Nebraska, Masterminds and Rough Night. Aside from movies, you can see Devin in small New York bars where he puts on concerts with his band.
7. Kieran Culkin (Fuller, Kevin's youngest cousin)
before
Kieran is Macaulay's younger brother. He landed a part in Home Alone, as Kevin's bed-wetting cousin, Fuller. The film marked Kieran's acting debut. Casting Kieran Culkin in home alone taught Chris Columbus a very important lesson – when you agree to work with a kid actor, you're also agreeing to work with that kid's family.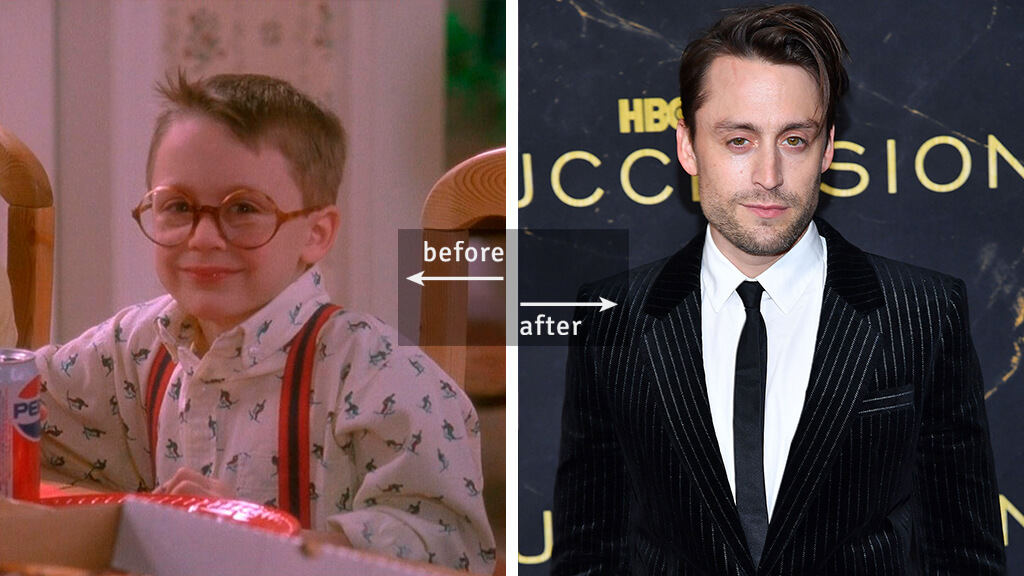 20th Century Fox, Stephen Lovekin / Shutterstock
after
Kieran Culkin's career can be considered even more successful than his elder brother's. Since his debut in Home Alone, he has gone on to build an impressive career for himself in movies like The Cider House Rules, Igby Goes Down, Scott Pilgrim vs. the World, and FX's Fargo. In both 2019 and 2020, Culkin received Golden Globe nominations for Best Performance by an Actor in a Supporting Role in a Series, Limited Series or Motion Picture Made for Television for his work in HBO's Succession.
Sources: celebrity.nine.com.au, cinemablend.com, people.com, Wikipedia