4th of July Crafts You Can Do with Your Kids
It's already summer, with Independence Day around the corner. While your kids can't wait for the big day, let's entertain them together. Look at these amazing patriotic easy-to-make crafts that are perfect for the Fourth of July, put together all the supplies and just start doing them with your kids.
1. Tissue Paper Sparklers
before
An easy party decor that you can ever make. These tissue paper sparklers are perfect for some quick and easy Fourth of July decor. They can be made also for any occasion! Here is what you need:
tissue paper
white glue
straws or skewers
scissors
after
See the full instruction of making tissue paper sparklers here.
2. Patriotic Duck Tape Parade Stick
before
You know when you run out of aluminum foil or plastic wrap, you're left with that heavy duty cardboard tube? Don't throw those away! They are great for crafting, and if you have one handy, you can make this parade stick too! Here is what you need:
duck tape: red, white and blue
scissors
sturdy cardboard tube (from aluminum foil or plastic wrap container)
hole punch (optional, can also use star stickers)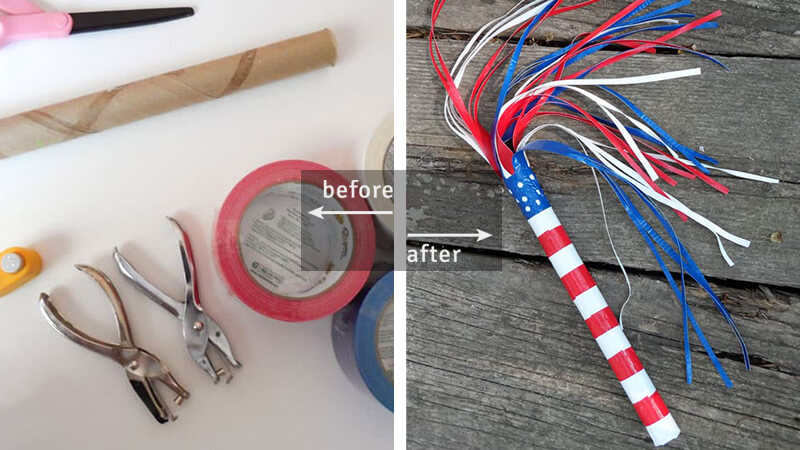 after
See the full instructions of making patriotic duck tape parade stick here.
3. DIY Patriotic Centerpiece
before
We've got a fun patriotic partially edible centerpiece idea that combines a great floral look with fun red, white, and blue candy, specifically Skittles America Mix. We need the following to make our DIY idea:
1 medium-large clear cylindrical vase
1 smaller cylindrical glass/vase approximately same height as larger vase
1-2 bags Skittles America Mix (41oz) -available for purchase on Amazon Prime
red, white, or blue flowers of your choice (real or fake can both work)
small American flag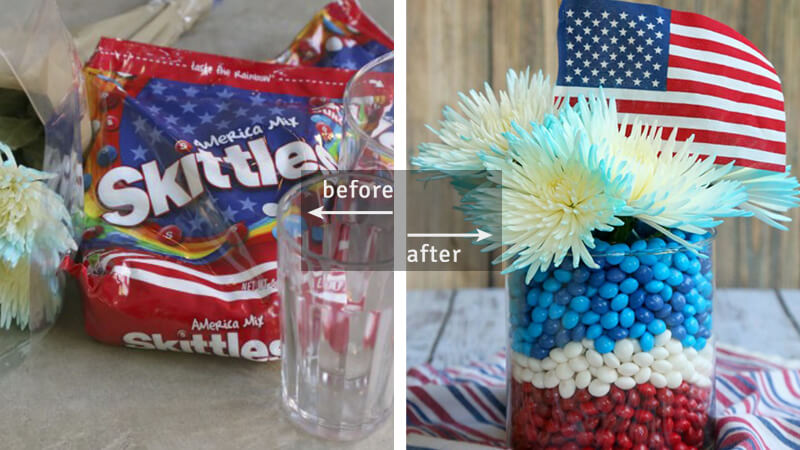 after
See the full instructions of making DIY patriotic centerpiece here.
4. DIY Sparkler Tee
before
Wear your patriotism on your sleeve with a T-shirt decorating craft that's fun for kids and adults alike. With a few artsy supplies and a blank cotton canvas, you can create a wearable work of art for the whole family and ring in the fourth of July with style. We need the following:
white tee
foam alphabet stamps
black, red, and white fabric paint
foam brush and paintbrush
washi tape
cardboard to prevent paint from bleeding through shirt
after
See the full instructions of making DIY Sparkler Tee here.
5. Magazine Mosaic Flag
before
Made from recycled magazines, this magazine mosaic flag is a fun art activity that kids will love. Showing your patriotism is not just reserved for adults, kids love showing off their USA pride too! This is a great way to use some of those old magazines and allow kids to express their creativity. This is what you need to make a magazine mosaic flag:
4" x 6" piece of thin cardboard (cereal box, notepad, etc)
white acrylic craft paint
magazines
scissors
string
glue stick
hot glue gun or instant grab glue
after
See the full instructions of making magazine mosaic flag here.
7. Patriotic Paper Tube Rockets
before
This 4th of July craft for kids is perfect for celebrating the holiday without spending a fortune on supplies!
Supplies needed:
one paper towel or toilet paper roll for each child
red, white, blue construction paper
glue
assorted colored glitter
after
See the full instructions of making patriotic paper tube rockets here.
Source: purewow.com