DIY Easter Decorations: 5 Videos with Step-by-Step Instructions
Easter holiday is for sure one that kids enjoy the most. To make the holiday full of joy for them the best idea is to make together Easter craft projects. Whether you want to set up a crafts table or create some DIY decor in advance for Easter party, these easy to repeat DIY ideas will help you to save your time amd bring a springtime touch to your house. Let's check videos made by Little Crafties.
1. Door/ Wall Hanging Easter Bunny
before
Ice-cream sticks
Foam sheet
Felt cloth
Pen
Scissors and Punch
Hot Glue and Fabric Glue
Ribbon
Rhinestones
after
Cute and easy DIY Easter Decoration made using popsicle sticks & foam sheet. This Easter Bunny Door Hanging or Wall Hanging is a perfect DIY Easter or spring home decor idea that you can make at home. This beautiful and colorful Easter craft is quite simple and fun to make and will be a great art and craft activity for kids as well.
2. Rooster/ Chicken Easter Basket from Plastic Bottle
before
Plastic bottle
Foam sheets
Scissors and cutter
Black pen
Paint and brush
Glue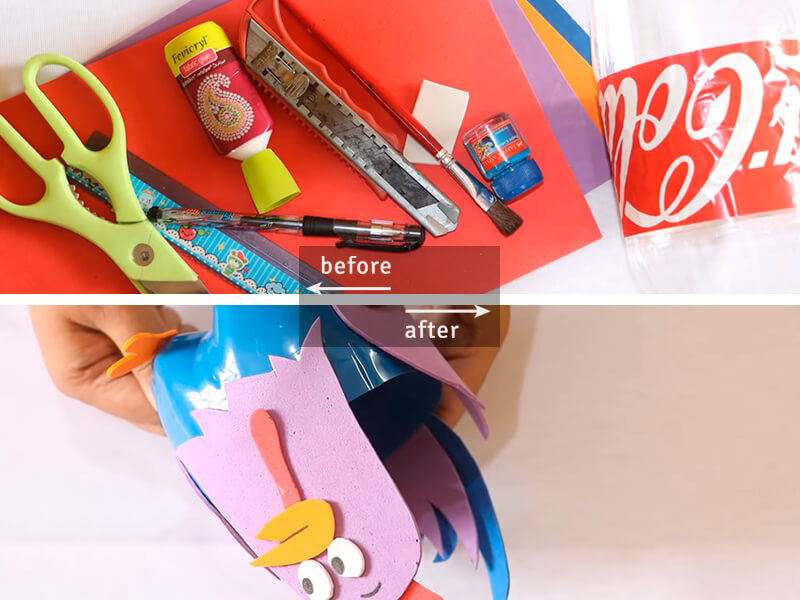 after
A very easy plastic bottle craft idea, this DIY Easter Basket is in the form of kids farm animals chicken. This Pinterest inspired gift basket or Stationary / knick knack holder is made from an empty coke bottle, colorful foam sheets and paint. It is a very nice fun craft for kids to make and will be a great Easter DIY or Easter craft.
3. Easter Bunny from Paper
before
Craft paper
Pompom (small)
Gel pen / marker
Ruler
Pencil
Scissors
Glue
after
This is a very easy Paper craft for kids that they can make as part of paper decorations for Easter or a school activity art and craft project. Make this DIY paper rabbit craft in different colors with basic craft supplies like A4 color craft paper and pompoms. The Easter bunny looks very cute and is a simple DIY craft to make too.
4. Easter Basket from Paper
before
Cardstock
Rhinestones
Ruler
Pencil
Scoring tool
Scissors
Glue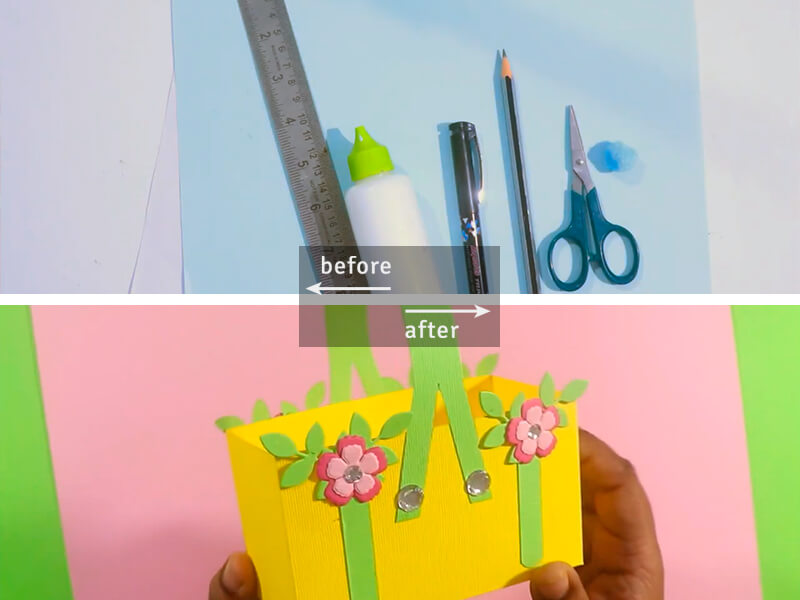 after
It is an easy paper craft idea that you can make at home. Made using cardstock paper this paper basket looks absolutely amazing.
5. Three Easy Paper Easter Egg Decoration Ideas
before
Color craft paper
Washi tape
Ruler
Scissors
Glue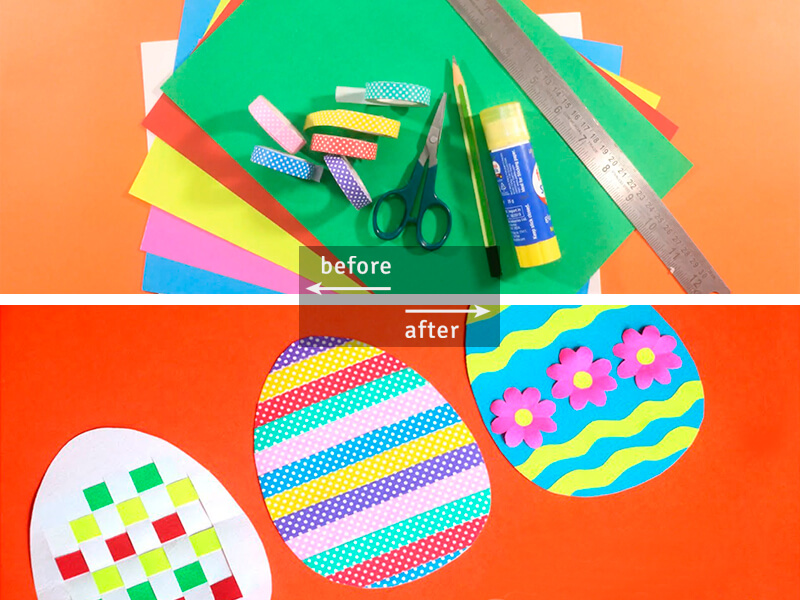 after
These are really simple paper Easter eggs made using basic craft supplies and hence make for great Easter crafts to make at home with readily available materials. It is an amazing Easter craft idea for kids as well as adults to make.